We are thrilled to announce that the last work from the series "Five Styles of Banzai-Ukiyoe" has now been released.
The featured artist is Tsukioka Yoshitoshi, who is famous as "Chimamire (=bloody) Yoshitoshi".
This piece is to go on show at Bunkamura Gallery in Shibuya, Tokyo, from Friday, May 14.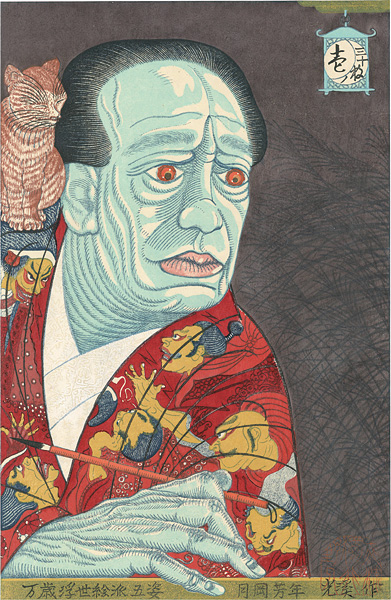 [Note from the artist]
-For his face, not only his self-portrait and existing photograph, I also referred to two portraits by his apprentice Goto Toshikage, and Kaburaki Kiyokata, who met Yoshitoshi in his later years.
-The cat on his shoulder is the one from "Torikeshitai (I Want to Cut It from the Record)" of the series "Mitate tai zukushi (Representations of Desires)." I transformed him/her into an orange tabby here.
-I put the ghost of Minamoto no Yoshihira and six terrified samurai in his kimono.
-The background is the fall night silver grass plain derived from "Fujiwara no Yasumasa gekka fue o moteasobu zu (Fujiwara no Yasumasa Playing the Flute by Moonlight)."